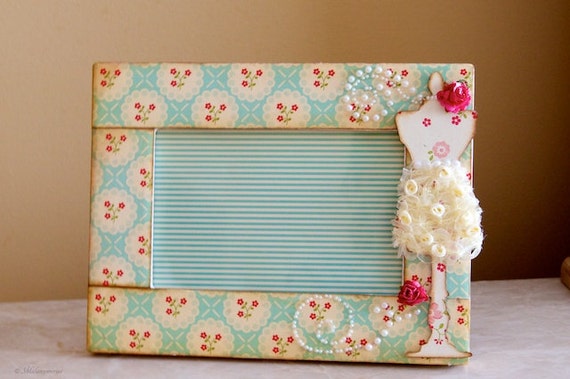 This frame was so fun to make! I got some frames from Target and decided i was going to alter them, because they were just to plain for my taste. I was so excited to use some October Afternoon Thrift Shop Paper. I really love this collection, it is an older collection, but i just couldn't find the perfect project to use it on. When i was thinking about what to do for a frame, i was going through my papers and as soon as I saw this paper I was inspired to use it with the Tim Holtz Dress Form Die.
Let me know if you have any questions, I will have a video on it sometime later this week.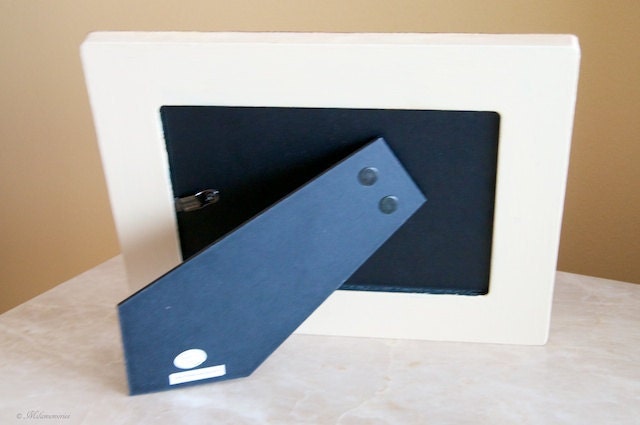 The first thing I did was paint the frame a tan color, I used acrylic paint by Claudine Hellmouth. I just painted the sides and the back of the frame, since i knew i was going to cover the front of it with patterned paper. The next thing i did was distress the inner edges of the frame with some distress ink, to give it a nice distressed, shabby shic look.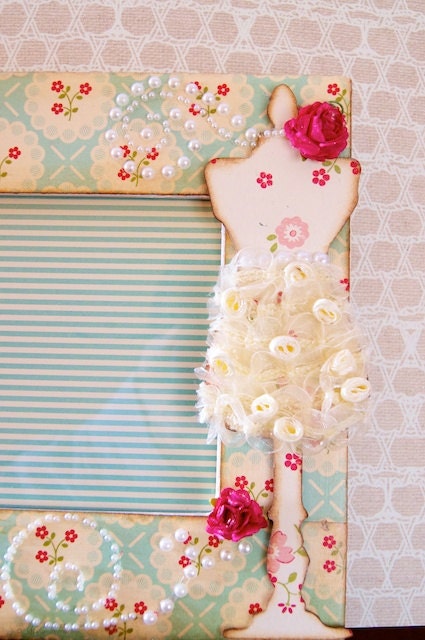 After I adhered the paper onto the frame, I used a multi medium by Claudine Hellmuth over the paper and the painted part of the frame, I did this so that it would be protected from dirt, dust, etc. Then i took my dress form die by Tim Holtz and cut it out with my Sizzix Big Shot. I used another pattern paper to cover the dress form and by multi medium over that as well, I took some gorgeous flower lace by Prima and wrapped it around the bottom so that it looks like a skirt, and put some Stampin Up pearls right above that to make it look like a belt. I also used some pearls around the neck part to make it look like a necklace and added a rose by IAMROSES (#R2-15). The roses are actually white, but I colored them in with some Glimmer Mist. I love to use the white roses, because then i can just color them whichever color calls for the project I am working on. Of course, nothing can be claimed as finished without some Prima pearls.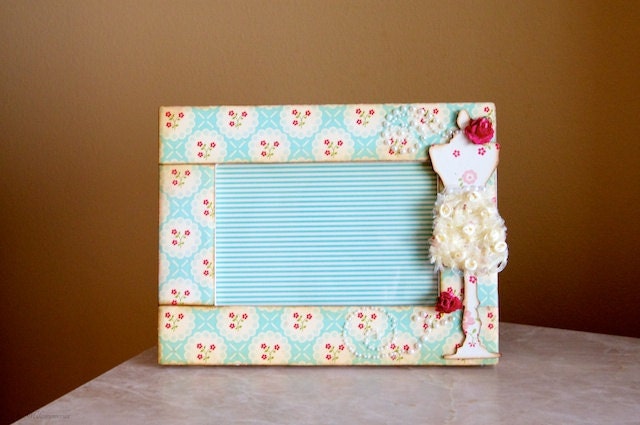 Hope you like the frame, let me know if you have any questions. The frame is for sale in my
etsy shop
.
Come back tomorrow for a new frame I altered using some Stampin Up papers!!
Hugs,
Mila